---
Introducing Curious Mary
THE STORY:
Our new limited edition Curious Mary DIPA (Double IPA) is strong, hoppy and intensely fruity. Mike has developed this recipe to show off the amazing characteristics of the hops, and we've used some new and exciting ingredients on the malt bill to create a great mouthfeel. Expect some amazing tropical notes on the nose and taste. We've created this special beer in collaboration with Mary Anning Rocks. Read more about this amazing cause below.
Mary Anning Rocks is a charity formed in 2018 to raise a statue of the pioneering palaeontologist Mary Anning in her hometown of Lyme Regis. The five-year campaign was supported by experts, public figures, and the wider worldwide community and crowdfunded more than £150k. The bronze statue of Mary created by artist Denise Dutton was unveiled in May 2022, and proudly stands in the town looking out across Black Ven where Mary discovered the majority of her amazing finds.
Mary's knowledge and skill at fossil hunting made her one of the most influential figures in the early science of palaeontology. Only recently has her legacy and contribution to science been acknowledged because of the historical prejudice against her as a working-class woman. Mary's extraordinary story of overcoming barriers continues to inspire and foster the next generation of Earth scientists. Today, her legacy and contribution to palaeontology is celebrated and acknowledged.
THE FACTS:
440ml Can – 8% ABV by VOL
Ingredients:
Malts – Extra Pale Malt, Wheat Malt, Naked Malted Oats, Dextrin Malt, Chit Malt
Hops – Citra, Ekuanot, Idaho 7, Sabro
Yeast – London Ale III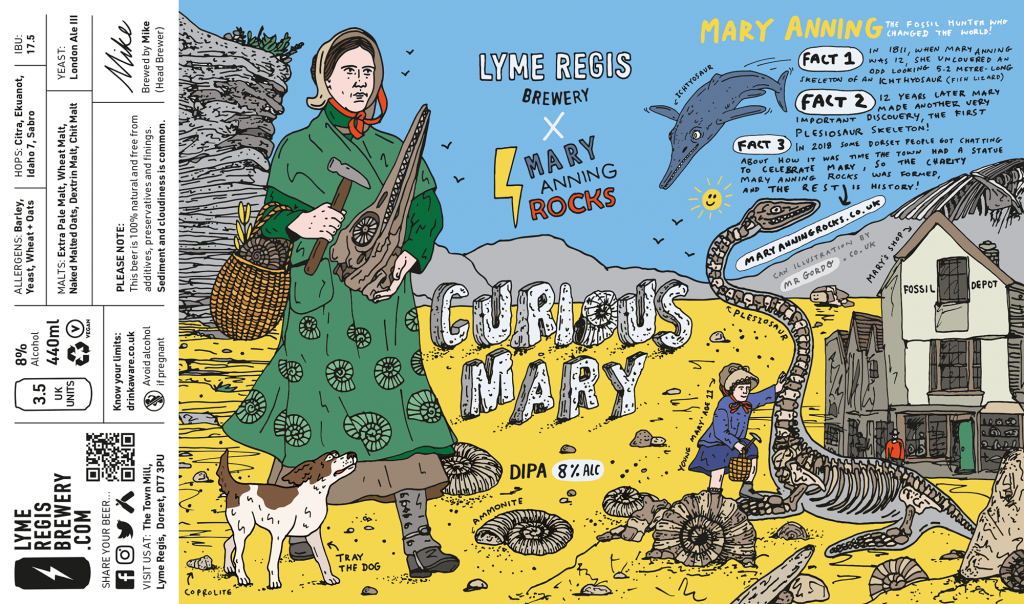 Introducing Sailor's Delight
Our Barrel Aged Imperial Stout, infused with Cherry Purée and Vanilla Essence
THE STORY:
"Red Sky at Night, Sailor's Delight"
It's dark, strong and packs a beautiful tart finish of fresh Cherry and Vanilla. Barrel aged for 9 months.
THE FACTS:
500ml Bottles – 8% ABV by VOL
Ingredients:
Water, Malted Barley, Wheat Malt, Cherry, Vanilla + Yeast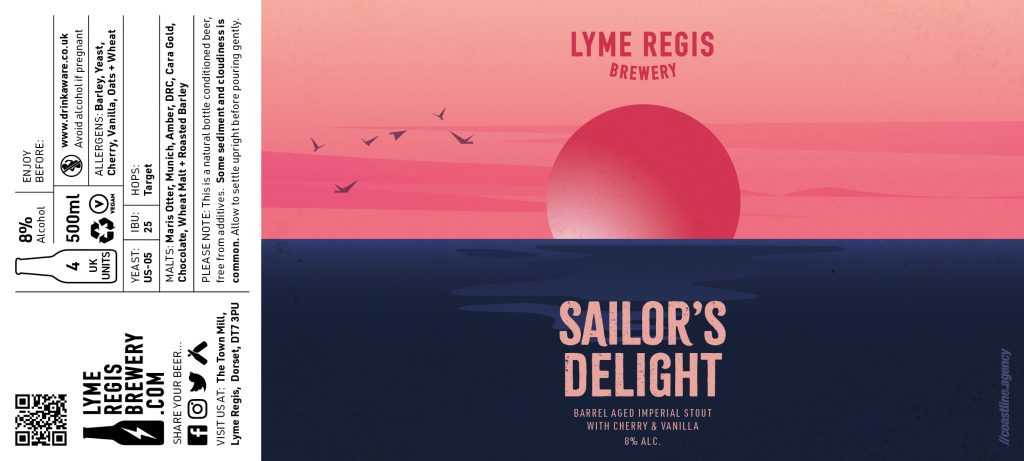 Introducing Rebellion
Our Honey-Spiced Rum infused Stout – which uses our Tempest Rum, steeped in oak chips.
THE STORY:
Rebellion takes it's name from the Monmouth Rebellion, also known as the Pitchfork Rebellion which was an attempt to overthrow James II.
James Scott, 1st Duke of Monmouth, the eldest illegitimate son of Charles II, claimed the throne in an attempt to displace his uncle.
Monmouth landed at Lyme Regis on 11 June 1685. In the following few weeks, he gathered an army in the West Country and on the 6th July the rebellion ended with the defeat of Monmouth's army at the Battle of Sedgemoor.
THE FACTS:
500ml Bottles + 30l Keg – 5% ABV by VOL
Ingredients:
Water, Malted Barley, Malted Wheat, Hops, Oats, Yeast + Honey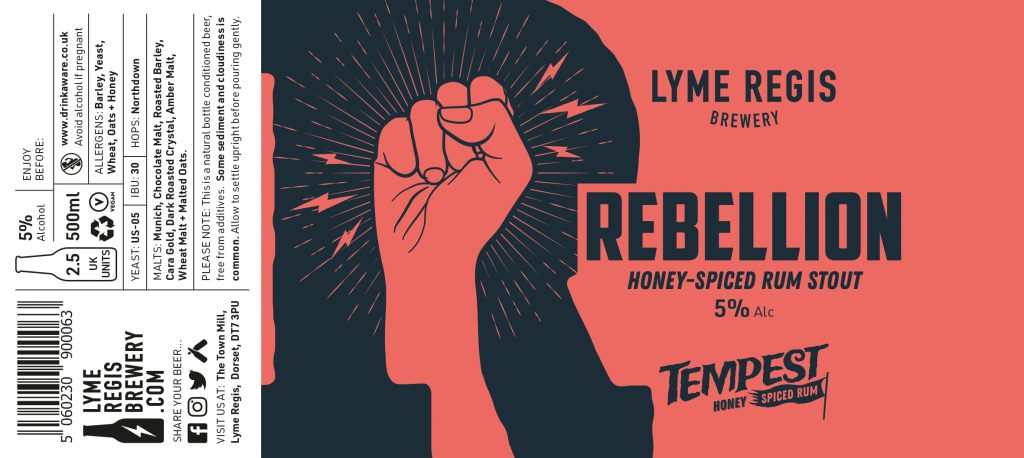 Introducing Longshore
LONGSHORE is our new Gluten Free English Session Lager
"existing on, frequenting, or moving along the seashore"
THE STORY:
Crafted using only the finest English malted barley and hop varieties, lager takes its name from the long sweeping shoreline of Lyme Bay, which spans from Start Point in the West to Portland Bill in the East.
THE FACTS:
440ml Cans – 4% ABV by VOL
GLUTEN FREE
Ingredients:
Water, Malted Barley, Malted Wheat, Hops & Yeast
Our second new beer in can and keg was launched to celebrate the reopening of pubs and bars after the second coronavirus lockdown.
steady habits is a NEW ENGLAND IPA
THE STORY:
Upon reaching America, early British colonists founded a settlement on the verdant coastline of Connecticut, which they named Lyme, after their home town back in England. Today, this region of New England is sometimes referred to as "The Land of Steady Habits". This juicy beer bomb is our tribute to those trailblazing pioneers, whose modern descendants introduced us to the New England style of IPA, some 350 years later. steady habits is loaded with Mosaic and Citra hops. Pull the pin and unleash a tropical explosion.
THE NUMBERS:
440ml Cans – 5% ABV by VOL
Ingredients:
Water, Malted Barley, Oats, Wheat, Hops & Yeast
We're proud to be launching our second new beer since we took over the helm here at the Brewery.
To accompany 284º, we have launched 104º – a tropical session pale ale.
The Story:
104° is the bearing you take as you set sail from the Cobb harbour in Lyme Regis. We made 284º exclusive to Lyme, as the name is reflective of visiting the town. 104º is all about going home, so we have released it in 440ml cans for you to take to the beach, or to take home after your visit.
This hazy session pale ale uses a blend of Comet, Cascade, Centennial, Chinook and Columbus hops to deliver a light tropical aroma. A beer for the beach, or to reminisce about Lyme.
Ingredients:
Water, Malted Barley, Oats, Wheat, Hops & Yeast
If you love your craft beer, you need to check out The Brewery Bible. Your companion for everything craft beer in The South West.
We're proud to have been involved with the team from the off. Find out more on their website at www.thebrewerybible.com
We have launched a Crowdfunder campaign to help see us through the COVID-19 shutdown.
You can Pledge A Pint – basically buy a drink at the bar which you can claim when we reopen. This can be for yourself, a loved one or friend, or you can donate one to an NHS worker to show your appreciation for the efforts they are making at this difficult time.
We have loads of other rewards on the scheme too. Check it out and thanks for your support!
https://www.crowdfunder.co.uk/pledge-a-pint-lyme-regis-brewery-during-covid-19
Our procedures for opening are regularly changing with the COVID-19 pandemic legislation. Our take away is open as normal, but anyone wishing to enjoy a drink at the tap room must adhere to the following rules:
Face Masks to be work at all times inside except when you are sat at a table
Sanitise your hands with the hand sanitiser provided when entering
All visitors must register their details on our track and trace page or physical form on the bar
You must be shown to a table by a member of the team. All our seating is reserved and will be managed by our staff. Do not simply sit down at a table.
We will take your order from your table and bring the drinks to you with payment details.
Stay safe everyone and thank you for your continued support.
We're super lucky down here in Lyme Regis to offer some exceptional places to dine. We recommend the following destinations here in town (they all serve our wonderful beer too!)
The Millside – exquisite riverside dining at The Town Mill
Baroque – contemporary wood-fired cooking
swim –  superb food overlooking the bay on the seafront
Tom's – award-winning restaurant on the seafront
Kiosk – grab a snack on the seafront accompanied by a Lyme Regis Brewery beer
The Bell Cliff  –  Cosy traditional café
Happy New Year! We're in the process of making some upgrades to our taproom and installing a new pilot brew house into the Battery Room at The Town Mill.
We will be closed until the 1st February 2020. If you wish to buy some beers for takeaway, please get in touch, or buy online and select "collect from tap room".
We look forward to welcoming you to the new tap room in February.
We've spent the last few months purchasing and restoring a new brew house. The 4 BB English-made brew kit has lived in Derbyshire for a number of years, and we are now on the lookout for a home for it right here in Lyme Regis.
Tempest Honey Spiced Rum is a blend of traditional Caribbean spiced rum and English honey, which delivers a spicy kick and smooth honey finish.
The name is inspired by Admiral Sir George Somers voyage to Virginia in 1609, where he was shipwrecked in a storm in Bermuda. The story was said to be the inspiration behind Shakespeare's play 'The Tempest'.
Visit us at the Brewery Tap to try some for yourself, or buy in online.
We've teamed up with a top small batch gin producer to bring you our own London Dry Gin.
Two Shillings Takes it's name from the rate of tax you once would have paid to land a pipe or puncheon of Gin on the Cobb during the Victorian era. We batch produce 50 bottles at a time. It has a wonderful flavour profile characterised below:
NOSE: Fresh crisp citrus, juniper and floral notes.
TASTE: A balance of juniper, coriander, orange and lemon with hints of liquorice and a touch of pepper.